Cathi and Dave took a ferry from Circular Quay across the Sydney Harbor to the Taronga Zoo passing by Fort Denison on the way.
Dave and Cathi visited the Taronga Zoo in Sydney, Australia in March 2014.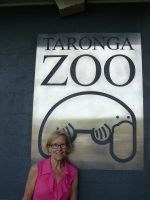 The Taronga Zoo in Sydney Australia is auctioning off these Rhinos in May 2014. They were on display around Sydney.